First Spanish proxy advisor
CORPORANCE Asesores de Voto S.L. is the partner for Spain and Portugal of the international network of proxy advisors led by Proxinvest (formerly ECGS, Expert Corporate Governance Services), an alliance formed by local independent leaders in Germany (DSW), France (Proxinvest), Italy (Frontis), Switzerland (Ethos) and Corporance, who have been advising global institutional investors on corporate governance, responsible investment, the design of engagement policies and voting recommendations at general shareholders' meetings for more than 20 years. CORPORANCE was created with the aim of analysing the proposals of listed companies in Spain according to more local criteria, in addition to Proxinvest's corporate governance principles and international voting policies. It also offers Spanish investment and pension fund managers, insurance companies and financial institutions the same tools that global institutional investors have been using for many years to vote responsibly. Law 5/2021, which transposes the European Directive 828/2017 on the promotion of long-term shareholder engagement in listed companies, entails new obligations for institutional investors such as developing and publishing engagement and voting policies. CORPORANCE offers an expert and close solution.
Member of the Proxinvest alliance
The ECGS network of proxy advisors was founded in 2001 in Birmingham, England by Europe's leading independent proxy advisors, forming the European Corporate Governance Service, which later changed to Expert to provide global coverage. It now covers 90% of the European market capitalisation. At the beginning of 2021, its Managing Partner, the French Proxinvest, replaces ECGS as coordinator of the alliance, which continues to integrate the same members: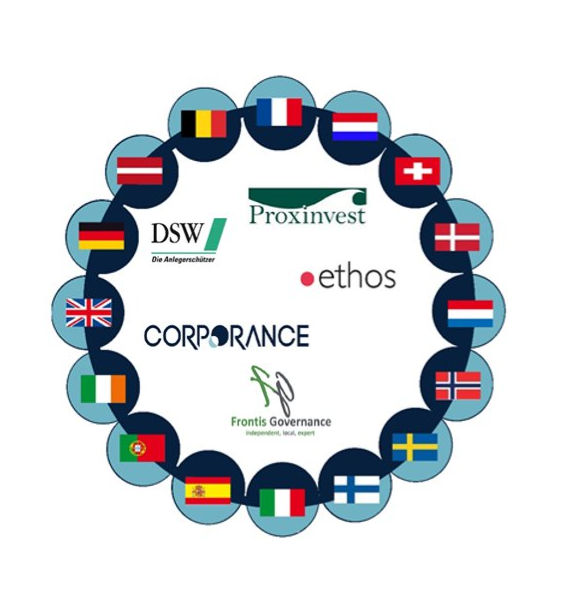 Our mission is to provide a rigorous, detailed and independent analysis and advice on corporate governance and sustainability to institutional investors, as well as to improve the good governance practices of listed companies, through expert analysts distinguished by their knowledge of the local market, professionalism and independence, especially with respect to the issuers analysed.
More than 20 years advising institutional investors
in global capital markets
Un equipo internacional Experimentado
An experienced
Global Team